Who's That Entering Through Your Door?
At Now Security Systems, we design and monitor access control systems for businesses and organizations of every size and type.
In fact, we offer the products of several of America's leading access control manufacturers to deliver exactly the access control system you require, including such options as:
Proximity cards
Biometric systems
Fingerprint recognition
Facial recognition
Today, access control technology encompasses much more than door entry. We can design and monitor a system for you that can track movement within the building for specific employees, and for entry and exiting from restricted areas. With the right access control system, we also can assist you in automating time and attendance reporting for company employees.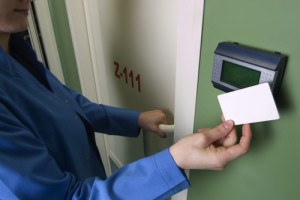 With a web-based access control system from Now Security Systems, no dedicated servers, PCs, or hard drives are required. Instead, these systems are based on solid-state control panels that can be fully integrated into your IT system, thereby allowing your security staff to manage your access control process from any computer tied into your system.
This is a highly flexible approach to access control functionality as web-based access control can be scaled to adapt to your changing needs with virtually no upper limits on the number of doors or card-holders it can accommodate.
Access Control Administration: Let Us Do the Work
Managing an access control system can be and often is a highly time-intensive and multi-level process, and one that many companies simply are not equipped to handle. That's why Now Security Systems offers you full monitoring and management services right here inside our own dedicated monitoring station. Your access control system also can be integrated with all other components of your organization's security systems into one cohesive program.
Contact Now Security Systems today for more information about an access control system and monitoring services for your business organization.