Fire Has No Business Interfering With Yours…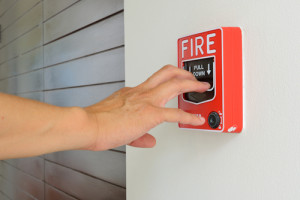 …and we do everything in our power to make sure that doesn't happen. It all starts with a custom designed and installed fire alarm system to provide you with the kind of peace of mind that takes one big item off your daily "to do" list….right after placing it on ours.
Whether it's a fire or any other kind of residential or commercial security system, we support it with our own on-premises monitoring station state of the art technology and experienced, hands-on monitoring, 24/7/365.
Should our facility lose power, we have a double back-up generator system so that virtually no time is lost.
Most of all, you can feel confident when you place your trust in the dedicated staff of Now Security Systems. Whether it's answering and properly directing your phone calls, install your equipment, or managing our on-premises monitoring station, we're one team working together to ensure your greater peace of mind. Need to speak to our company president for any reason? He's right here to take your calls, too.
Here's more of what you can expect from our commercial fire alarm security team:
Plan submissions
Code approvals
Ongoing testing and inspection
Systems integration
Routine maintenance
And more
Contact us for more information about our fire alarm systems and services.